Online Retail
Press Releases & Articles 31 - 35 of 42
Aussie Websites Give Free Shipping





8th December 2011 - Views: 1159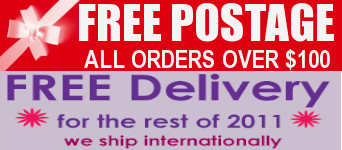 The shift to shopping online is gathering momentum as many retailers offer free shipping.
Jewellers Association Of Australia Acts To Protect Diamond Consumers





4th November 2010 - Views: 1228

The JAA has also called on Commonwealth and State Governments to act to ensure greater protection for consumers who choose to deal with online traders.
Webu- Australia's Largest Online Shopping Mall Opens Its Virtual Doors





28th October 2010 - Views: 2321

Australia's largest online shopping mall, Webu, opens for business today. Integrating online shopping with social networking, Webu (www.webu.com.au) is aiming to become an essential resource for online shoppers in Australia.
Beat the Blue Scope Steel Price Rise





23rd December 2011 - Views: 1048 Price of steel is on the rise
How to Shop Under Pressure





13th April 2012 - Views: 2170 Shopping isn't always a relaxing experience.